OH MR. PRESIDENT!...
---
Che cosa sarebbe Itullians senza il suo Presidente? Sarebbe come Parigi senza la torre Eiffel, come Londra senza il Big Ben, come l'Inter senza Herrera (e infatti). Ecco allora un umile tributo a cotanto uomo. Cliccate sulla foto: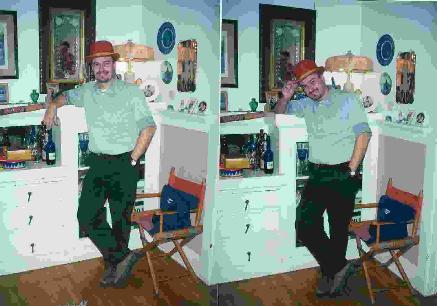 Il cimiero che il Nostro sfoggia è nientemeno che la bombetta indossata da Glenn Cornick nelle foto di Living in the Past. Guardatelo bene e sentitevi fieri di appartenere all'eletta schiera da lui guidata. Il grande Aldo è qui a casa di Glenn, che è anche l'autore di questa foto.
---
La nostra astrochiromante preferita, Cristina di Fano, ha scovato in rete il documento seguente, che ricevo e volentieri pubblico a maggior gloria del nostro Beneamato Plenipotenziario Autocratico:
The legacy of Al Taliaferro
Charles Alfred Taliaferro was born in Montrose, Colorado on August 29th, 1905.
Al Taliaferro is known as the first artist of Donald Duck newspaper comics, that he drew for more than 30 years, and is considered as one of the best Disney comics artists ever.
After his family moved to Glendale, California, Taliaferro studied art at the Institute of Art, California, and worked in publicity. On January 5th, 1931, he was hired at the Disney Studios of Hyperion Avenue as animator, but soon went to the comic strip department.
Al first worked on Disney comics inking Mickey Mouse daily strips for Floyd Gottfredson from March, 1931 to July, 1932 (and with Ted Thwaites from 1933 to 1938). After this, he soon made a few Bucky Bug comics (just one year later in 1932), and many Disney "Silly Symphonies" adaptations ("Birds of a Feather", "The Boarding School Mystery", "Ambrose, the Robber Kitten" and "Elmer the Elephant" to name a few).
Al Taliaferro is also credited for non-Disney comic book stories (Jim Davis and the Sangor Shop).
In 1938, Taliaferro began working on the Donald Duck daily strips, and two years later, on Donald Duck Sunday Pages. He created many characters, including Donald's nephews Huey Dewey and Louie, and Donald's Grandma Duck, and drew Daisy Duck for the first time in the comic strips. Taliaferro's Donald comic strips became the most distributed Disney strip, and were immensly popular in the U.S.A.
He also contributed to a few Disney comic-book stories for Dell/Western publishing "Counter-Spy", a Cheerious giveaway comic, a bucky bug story, some Donald two-pagers, as well as illustrations and covers (Chef Donald for Icy Frost Twins Ice Cream Bars Giveaway, and many texts and original drawings for Walt Disney's comics and stories). It is also said that he contributed to the book "Donald Duck and the Hidden Gold" (1951), where his name appears.
Al Taliaferro who was ill since 1965, died in Glendale, California on February 3rd, 1969.
---